Are you searching for the best treadmill in India for home use? Then, you have just come to the right place.
Running is one simple, yet powerful exercise that helps anyone get fit without any fuss.
Running outside has its own benefits like getting Vitamin D, breathing fresh air, socializing, etc…
Even a few minutes of running every day makes a lot of difference in your health and can help reduce your overall body fat percentage.
However, most people these days are leading a busy lifestyle and those who cannot allocate enough time to go outside and run can invest in the best treadmill brand.
Top 3 Best Treadmill for Home Use in India 2020
Here is a list of best treadmills in 2020 that are worth your money.
Best Treadmill for Heavy Runners in India
Durafit is one of the best treadmill brands for home use in India, especially for heavy persons.
This automatic treadmill comes with a 2.5 HP continuous duty (CHP) DC motor and 5.0 HP peak output.
It comes with 16 levels of auto-incline and top speed of 16 km per hour.
The vertical Hydraulic folding system enables easy transportation of the treadmill as well as saves space after use.
The dura-spring technology and gel cushion under the running belt absorbs any shocks and does not let the user receive any pressure on the knees and joints.
It comes with a gym combo that consists of a resistance band, yoga ball, yoga mat, foam roller and resistance tube.
You can connect your smartphone or mp3 player using the AUX cable to listen to your favorite music while working out.
The treadmill comes with a 1 year door-step warranty on parts, 3-year door step warranty on the Motor and Lifetime frame warranty.
PROS
2.5 HP (Peak 5.0 HP) Motor
16 level Auto-Incline
Speed Range:1.0-16 km/hr
Running Area: 50″ X 19″
Wide LCD Display
MP3 Player with Loud Speakers
Vertical Hydraulic Folding System
Max. User Weight: 120 kg (walking); 90 kg (running)
Gym Combo
Silent motor; makes very less noise
CONS
No details of pre-programmed workouts
Speaker quality is ok but could have been better
PowerMax is another popular treadmill brand that manufactures high-quality treadmills with the premium build quality and best features.
The TDA-350 is their best treadmill model priced under Rs.50000.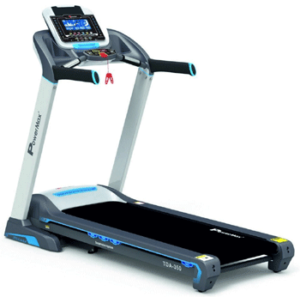 This motorized treadmill comes with an auto inclination option (up to 18%) so that you don't have to manually adjust the inclination while running.
It has a 3 HP continuous green efficient DC motor with a 1 to 18 Km/hr speed range. Consumes less than 1 unit for 1 hour of usage.
The 7 inches blue LCD display shows time, speed, distance covered, calories burned, heart rate, and also Fat + BMI measurement, which is a bit rare in this price range.
You can connect it to your mobile through the Smartphone app via Bluetooth.
The treadmill supports a maximum weight of 120 Kg.
The Octo-Flexi rubber cushion with a double layer running board is very beneficial, especially for those with joint pains.
You'll get a 3-year warranty on the motor, 1 year on parts and labor, and a lifetime frame warranty.
PROS
3 Horsepower DC motor
18 levels of auto incline
Top Speed of 18.0km/hr
7″ Blue LCD Display with Smartphone connectivity
Running Area: 53.5″x 18.8″
Heart Rate Sensor on Crossbar Handle
Built In Speakers with AUX/USB connection
Max weight capacity is 120 kg
Octo-Flexi Rubber Cushion
Android and iOS Application (FitShow)
Hydraulic Soft-drop System (HSS) Folding
Quiet and Power Efficient
CONS
Requires more space; if that is what you can't afford at your home.
With an amazing build quality, the TDA-260 treadmill comes with a 2.0 HP continuous green efficient DC motor, 15% auto incline, and 0.8 to 14 KM/hr speed range.
It supports a maximum user weight of 120 KG.
The 7-inch color touch display shows time, speed, distance, calories and heart rate.
You can also connect to the Internet using WiFi. It comes with support for AUX and USB input for music play.
This multifunction treadmill also comes with an option for massage, dumbbell, sit-ups and twister for waist trimming.
The hydraulic softdrop system is very good and easy for folding and unfolding the treadmill.
You get a 3 year warranty on the motor, 1 year on parts & labor and lifetime on the frame.
PROS
2 HP continuous DC motor
15 levels of auto inclination
Top speed of 14 km/hour
7″ Color Touch Screen powered by Android OS
Running Area: 50.3″x 17.7″
Built-in speaker
Internet & WiFi connectivity
Max user weight of 120 kgs
Heart rate sensor
Anti-Skid Running Belt
Multifunction Utilities
Foldable
Quiet & Energy Efficient
CONS
Not recommended for people with long legs
Price could have been a bit less
ALSO READ:
,,Best Selling Exercise Bikes for Weight Loss in India 2020: Ultimate Buying Guide
,,5 Best Back Brace For Men & Women India 2020