Finalizing a TV is a very challenging task, especially when you have so many choices to choose from. However, if you exactly know your requirements and taste, it won't be hard to choose an Android TV from the list that we have made for you.
Top Android TVs in India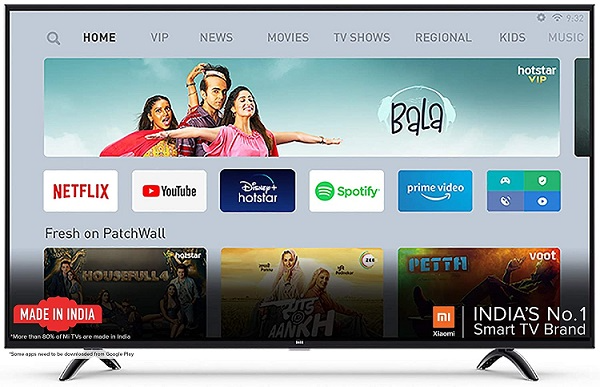 SPECIFICATION
Size-32 inches
Display Resolution-HD Ready (1366×768)
Refresh Rate-60 Hertz
Smart TV-Android TV 9.0
Ports-3 HDMI, 2 USB ports
Sound Output-20 Watts
Weight-3.9 Kg
Model Year-2019
Warranty-1 Year
So, let's start our list with the most promising yet budget-friendly Android TV on the market from a brand that has almost blown every Indian market with its feature-full products. For the audience who are looking to buy a new TV for a very affordable price, the Mi TV 4A PRO is one amazing package for you.
This 32 inches Android TV comes with a PatchWall, which is Xiaomi's own custom UI based on Android version 9.0. However, you get access to all the important features of Android on this TV such as Google Assistant and some pre-installed applications like Netflix and Prime Video. And, for using such an application, its built-in Wi-Fi functionality will come very handy.
As far as the picture quality is concerned, it uses a 32 inches LED panel that has a screen resolution of 1366×768 pixels, aka HD Ready. Moreover, the refresh rate of the panel is kept to 60 Hz, so you can expect some amazing smooth experience from the panel while watching movies.
Apart from that, the Mi TV 4A PRO boasts of 20 watts in-built speakers, which are good enough to fill a small-sized room with an immersive sound experience. All thanks to the Dolby-Plus DTS-HD technology that enhances the soundstage and makes the movie-watching experience a lot like real.
However, if you have a soundbar to connect or any other gaming consoles or any other kind of external peripheral. You can take advantage of the 3 HDMI ports and 2 USB ports given at the backside of this TV. There is Chromecast built-in as well in case you want to cast content directly from any other device.
Pros:
Budget-Friendly
Ideal for smaller rooms
Easy to use interface
Latest Android 9.0 operating system
Cons:
Not an IPS panel
No display grading is mentioned by the brand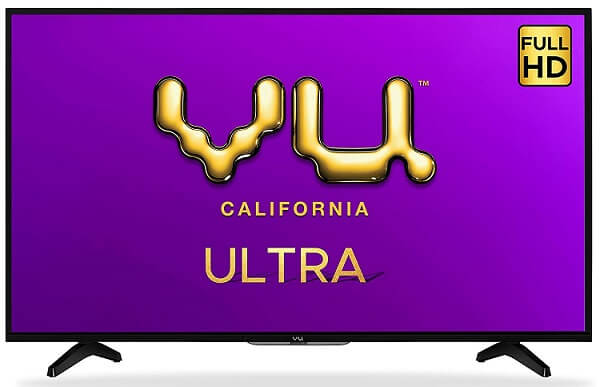 SPECIFIACTIONS
Size-43 inches
Display Resolution-Full HD (1920×1080)
Refresh Rate-60 Hertz
Smart TV-Official Android Pie 9.0
Ports-2 HDMI, 2 USB
Output-24 Watts
Weight-7.1 Kg
Model Yea-r2019
Warranty-1 year
Next on our list is a TV from a well-known brand from the USA that was established by an Indian. Vu Televisions have a lot of variety to showcase, out of which we have elected to choose Vu LED TV 43GA for this list.
It is yet another budget-friendly option if you want to settle down with the basic yet ideal specifications. Since the size of this TV screen is about 108cm, around 43 inches, it is quite suitable for any room size. Moreover, Vu is smart enough to put a panel that has Full HD resolution as it is very good for a 43 inches size.
Also, it is graded as an A+ high brightness panel that assures you there will be no color bleeding issues or any other kind of damage at the time of arrival. Moreover, the panel also has a 60 Hz refresh rate with additional features like adaptive contrast and MPEG noise reduction to make it suitable for every kind of usage.
Coming to the smart features of this  Vu 43GA LED TV, it is loaded with Official Android Pie 9.0, so the clean UI experience is awaiting you. On top of that, you can simply access the Google Play Store and download whichever application you like, such as Netflix, Prime Video, etc. In a complete Google Ecosystem, the Chromecast comes in-built as well.
In the sound department, the 24 Watts speakers perform well enough with additional sound enhancements provided by features like  Dolby Audio, DTS Studio Sound. However, the I/O ports are quite limited as there are only two of each HDMI and USB ports. But, the support for Bluetooth 5.0 is there, so you can make use of it to connect wireless devices.
Pros:
Ideal for budget-oriented people
Official Android 9.0 experience
Sound quality is decent
Provides a cinematic viewing experience
Cons:
Connectivity ports could have been more
SPECIFICATIONS
Size-55 inches
Display Resolution-4K Ultra HD (3840×2160)
Refresh Rate-480 Hertz
Smart TV-Android Pie (9)
Ports-4 HDMI & 3USB
Sound Output-50 Watts
Weight-19.5 Kg
Model Year-2019
Warranty-1 year
OnePlus has recently joined this market with its heavily priced high-end smart Android TV, the OnePlus Q1 Series 4K Certified Android QLED TV 55Q1IN-1. The pricing of this TV might not seem to come under budget for most people, but for those who can afford it, don't miss out as the pricing is quite justified for the features you get.
The main thing that you will mostly be paying for is its 55 inches QLED 120% NTSC bezel-less screen, which is one of the best display panels in terms of brightness and color accuracy after OLED screens. The viewing experience is so holistic since it uses various technologies such as HLG decode, Dolby Vision, and also has support for HDR10 and HDR10+.
Apart from that, the screen clarity is remarkably the best as it comes with a 4K Ultra HD (3840×2160) with the smoothness of 480 Hz motion rate. There is no need to add any external sound system to your setup since it boasts of 50 Watts full-range 2 speakers with 2 subwoofers in-built, which are more than enough to serve you with an alluring sound experience.
As far as the smart features are concerned, OnePlus has loaded it with one of the best Operating systems, Oxygen OS based on Android 9.0. Henceforth, you can enjoy the user-friendliness of Google's ecosystem with preloaded applications like Amazon Prime Video, and many more.
Also, there are plenty of other useful features such as OnePlus PQ Engine, Chromecast Built-in, Gamma Color Magic, OxygenPlay VOD selection, Screencasting, OnePlus Connect Mobile Sync and control, File Browser, and Bluetooth Stereo mode as well. Apart from that, you also get 4 HDMI ports and 3 different USB ports, including one USB 3.0, USB 2.0, and a Type C port.
Pros:
Super-smooth Oxygen OS
Superior viewing experience
Theater-like soundstage
Ultra-bright and color-accurate display panel
Netflix is now available on this TV as well
Cons:
Remote functions are slightly difficult to understand
So, this was our list of the best Android TVs in India that are available to purchase at the moment for a very fair price. As you might have already noticed, there are TVs of all price ranges, and each one has different specifications. So, it should not be very challenging to find the best suitable one for your requirements and likings. You can simply select one from the list if you have an exact visualization in your mind about what you expect from your new TV. However, if you are not able to choose one and things are getting confusing for you, we have a  personal recommendation for you that might help you out.
The Mi TV 4A PRO 80 cm (32 inches) HD Ready Android LED TV is a good choice for those people who have a strictly tight budget and still want to experience all the latest Android TV features.
Feel free to share your thoughts with us in the comments section below!
ALSO READ: